Water Quality and Taste Working Group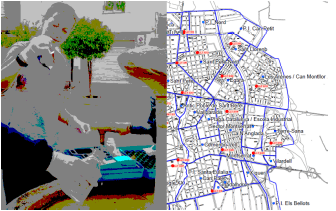 Lorena Aguilar Pérez

, Ph.D. Student – UNESCO Chair in Sustainability, UPC.

Guadalupe Barajas López

, Professor – UPC –

Escola de l'Aigua-AGBAR and UOC.

Juan Cazorla Márquez

, Taigua workers of Terrassa representative.

Joan Comallonga Galí

, Installers Guild of Terrassa and Region (GREINTEC).

M. Rosa Egea Bach

, Dones d'Aigua and Council of Citizen Action Entities.

Beatriz Escribano Rodríguez de Robles

, UNESCO Chair in Sustainability, UPC.

Montserrat Flores García

, Dones d'Aigua.

Dolors Frigola Comas

, Dones d'Aigua and Council of Citizen Action Entities.

Juana Martín Hernández

, Student of the senior Diploma in Science, Technology and Society

Pilar Quintanilla Solera

, Dones d'Aigua.
The "OAT's Working Groups" document and specifically the one from the Water Quality and Taste Group (QSA, Catalan acronym), says: "Its function is to develop the study of water quality and taste to make proposals.
These proposals include a wide range of options: improving treatment from the technical field, consumption culture, factors that limit quality and taste, treatments and costs and strategies to enhance tap water consumption. This study is being carried out within the framework of the Master Plan, and its objectives and contents must be agreed. "
The specific goals are:
Make sure that water quality not only complies with health requirements for human consumption but that also includes other aspects linked to health and taste. The question asked being: what type of water we want for Terrassa and with what taste?

Improve the taste of tap water:

Consider the tap water taste as a key issue for the city and as a strategic point to gain support.

Propose a study focused on implementing a global treatment to improve Terrassa's water taste before its distribution through the network.

Carry out a tap water tasting to assess the taste perception of different types of water.

Getting to drink tap water and not having to pay an extra cost for its consumption.

Start a strong campaign addressed to create awareness on tap water consumption as a necessity.

Analyze which are the elements influencing the current consumption model: is it a cultural issue? Is it due to a consumerist model (buying bottled water out of a marketing manipulation)? Or is it that both subjective/objective elements embedded in tap water taste make people reject its consumption?

Assess water characteristics in Terrassa through a historical analysis of quality parameters and values.

Apply municipal regulations to make a sustainable use of water in homes (separate water ducts, rainwater collection …).

Organize training and debate activities to disseminate and create a new more sustainable water culture in the city.

Direct and collaborate in educational activities related to water quality and taste in coordination with the Education Board.
Current studies and tasks
Supervised research work "The quality and taste of water in Terrassa, improvement proposals".

Historic of parametric water quality values in Terrassa.

Study on the possible implementation of a separate water ducts regulation in Terrassa's homes.

Fieldwork on user satisfaction surveys related to water management and taste in municipalities with more than 25,000 inhabitants in Spain

Collaboration in the subject Research-Action Workshop on Sustainability Science and Technologies of the Master's Degree in Sustainability Science and Technology – UPC trough the project "Water culture and responsible consumption".
<script> document.getElementById("year").innerHTML = new Date().getFullYear();<!-- [et_pb_line_break_holder] --></script>