The Education Table started out the process of relocating the water management and supply back to the city. At the start of the Terrassa Water Observatory, the Education Table was created to build-up a collaborative network for developing the new water culture values of: democracy, transparency, participation, human rights, social justice, sustainability, efficiency, savings, protection of resources and nature.
The aim is to work, together with the educative community of Terrassa, towards a new water culture in the city.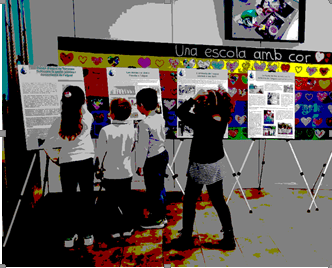 A representative from the elementary schools directive teams
Two representatives from IES Egara
Two representatives from the school Cultura Pràctica
Three representatives from the Water Table
One representative from the OAT's Permanent Commission
One representative from Dones d'Aigua (Water Women)
One representative from the UNESCO Chair in Sustainability
The OAT'S Presidency
Creating a complicity network between local schools and stakeholders to define and give value to the New Water Culture in the city. This is expressed in the public water management principles and goals defined in the document "Motions for a public and participative water management". The document was worked and approved in the First Citizen Parliament of Terrassa, and was after presented at the City Hall.
Defining a collaborative work between schools and training fields at all levels and sectors. This is done with the approval and participation of the City Hall. Social agents and stakeholders that show interest are also invited to be part of the integrated and participative water management.
Achieving the acknowledgement of the full dimension of water: as a human right, as an essential, scarce and shared with nature resource, and as a common good. Getting to include this acknowledgement in the learning process and educational curricula through the development of specific competencies and values.
Expand the collaborative network.
Make a diagnose on curricular contents and developed activities regarding water for schools. Map these activities.
Work towards the creation of a teaching resource bank with proposals and activities related to water for the different education levels.
Develop collaborative dynamics between teaching centers, universities, the Education Table and the local Administration to foster knowledge, innovation and research. This is done mainly taking advantage of term papers, pre-graduate research papers and doctoral thesis.
<script> document.getElementById("year").innerHTML = new Date().getFullYear();<!-- [et_pb_line_break_holder] --></script>